Walker

Messages

: 2


Registration Date

: 2022-06-30

Well, I'm having this issue below where I have already tried uninstall my antivirus, disabled firewall, started the AionAmerica.exe in compatibility mode, changed the game path and checked too many times for updates/integrity but NOTHING worked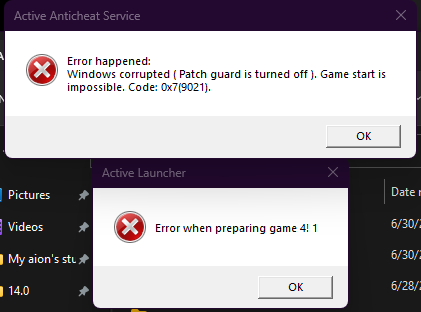 Since the problem seems to be with the OS compatibility, I decided to make a dual boot in my computer and install Windows 10, but I'm having issues during the installation.
F*, but why don't just install Win 10?
because I wanna keep using Win11 so the solution would be using both systems.
But the point is...
Is anyone playing Aion America in a computer with Windows 11?
Is anyone else with this issue too or have solved this issue? How?
cloudshadow and dennispe33 like this post
Support continued through discord, problem solved after formating.
cloudshadow likes this post
Swurl

Messages

: 1


Registration Date

: 2022-07-18

I am getting random disconnects, when I tried to reconnect I get an error about not being able to contact the security server.
After a few minutes I retry and it's ok.


cloudshadow

Messages

: 1


Registration Date

: 2022-08-02

godtay

Messages

: 1


Registration Date

: 2022-12-01

Virtual Machine Detected! is what it says to me i tried all solutions i checked i removed the checkmark and everything please help
Permissions in this forum:
You
cannot
reply to topics in this forum